Philosophy
As a specialist in the manufacture and development of leak testing devices (leak tester, leak detector) and other industrial measurement devices, couplers and power saving & automation devices, NAKK has contributed greatly to the quality control and improvement programs of various industries for more than fifty five decades.

Quick Delivery and Low Cost through In-House Development
We develop high-quality leak tester by ourselves in our own facility. We are unlike other major enterprises that are not able to provide flexible services since they are just retailers and distributors. What's more, we can design and create any sort of leak testing device as well as leaks tests that are based on your specific requirements and needs. Another advantage of developing our products themselves is that we are able to achieve a much faster rate of production and turnover of products with a much lower cost. To know more about what we can do for your company, please do not hesitate to give us a call and we'll be happy to discuss a customized plan that works for you.
Speedy and Accurate Customer Support
One of the things that make NAKK one of the best choices for leak testing devices is our highly trained and knowledgeable customer support group. Unlike other organizations that rely on outsourced customer support ? which are prone to misinformation or lack of knowledge to properly address concerns ? we handle everything in-house, guaranteeing that all your inquiries will be adequately answered.
We develop Leak Tester by our own technology
At NAKK, we also take pride in developing much of the technology we use, such as a new leak testing method called the Work Comparison Secondary Measurement Method (patented which is used to resolve problems in traditional leak testers. This new method allows stable inspection because just like "Work Comparison Method", temperature and bulk changes occurred rarely.
Also, the problem in "Work Comparison Method" where pressure difference can not be identified when both works has a leak.
NAKK Leak Tester Features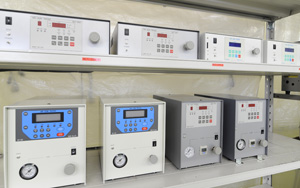 DESIGN AND PRODUCTION OF SEALING JIG ACCORDING TO WORK
Sealing jig is essential to the automation of leakage inspection. Leakage can not be measured with high sensitivity without sealing and measuring method. We can design and produce jigs according to your work.
WIDE SELECTION OF TYPES
You can choose the appropriate type of device according to your requirements.
HIGHLY SENSITIVE
Its highly-sensitive sensor and specially-designed piping system make leakage inspection ultra-sensitive and fast.
COMPACT IN SIZE
It is compact in size that saves space and makes it easy to incorporate into automated machines.
GENERAL VERSATILITY
It allows the user to freely sets the standard for test pressure, test duration and leakage determination.
MEASUREMENT F THE AMOUNT OF LEAKAGE
Its capability of displaying the level of leakage on indicating device allows user to easily determine the amount of leakage through the use of conversion or tables/graphs.
INCORPORATION OF TESTER INTO FULLY-AUTOMATED MACHINE
Since Leak Tester has input and output outlets that allow connection with external devices to receive activation signal and send signals to tells the rejects/non-rejects and the completion of inspection, it can easily be connected to automatic feeding jig and automatic segregation device to be incorporated into mass production line as fully-automated machine.
Problems in the Older Version of Leak Tester (Leakage Inspection)
While inspection Is conducted using Leak Tester (leakage inspection), there may be a case when accurate measurement can not be achieved due to noise. "Difference in temperature" and "Change in volume" are some of the factors that may generate major physical noise.
DIFFERENCE IN TEMPERATURE
In case of work that is thin, wide surface area and higher heat conductivity, the pressure inside the pressure difference sensor changes due to the occurrence of volume changes caused by the difference in temperature. The volume increases as temperature rises while the volume decreases as temperature decreases and therefore, the change of pressure can not be detected correctly.
Works that are prone to noise that is generated by the difference in temperature: Pipe, aluminum, radiator, etc.
CHANGE IN VOLUME
Some works expand or contract when pressure was applied into them for inspection. In such case, leak tester is unable to detect the correct pressure change due to change in volume.
Works that are prone to noise that is generated by the difference in volume: Pet bottle, container made of resin, flexible hose, etc.
Such noises can not be avoided by the old Pressure Difference-Type Leak Tester (leakage inspection). Also, even if "Work Comparison Method" is used to avoid the change in temperature, there is still a problem where pressure difference can not be identified when both works has a leak.
The Industry's First "Work Comparison secondary Measurement Method (patented) " Solution
In order to resolve the problems in the old version of leak tester (leakage inspection), NAKK has developed a leak tester (leakage inspection) that adopts the new method called "Work Comparison Secondary Measurement Method". Since it measures the same works using "Work Comparison Method", the effects from change in temperature and volume are very minimal and therefore, stable inspection can be performed.
Problem in "Work Comparison Method", which the pressure difference can not be identified when both works has a leak, has also been resolved by the implementation of secondary measurement.
Corporate Profile
Location
Main Office/ Factory
〒193-0821
838-3 Kawa-Machi, Hachioji-Shi, Tokyo
TEL
+81-42-659-1315
FAX
+81-42-659-1316
Capital
15,300,000 Yen
Sales Office
〒483-8332
224, Hidakachokadono, Konan-shi, Aichi
TEL
+81-587-58-6728
FAX
-81-587-58-6729
Products
1.Air leak tester (Airproof inspection device) Inspection devices for leak test, pressure and flow measuring devices Design, production and sales
2.Digital pressure gauge
3.Various kinds of test stand
4.Air pressure and hydraulic cylinder and hydraulic unit, etc.
5.Various kinds of power saving device
History
| | |
| --- | --- |
| 1961 | Established company as sales air equipments |
| 1968 | Developed and leak tester. Began sales operation |
| 1971 | Developed leak tester for the pipe coupler to be used in gas and water system |
| 1976 | Developed and started selling low-cost leak tester |
| 1981 | Developed leak tester for the condenser used in nuclear power plants |
| 1989 | Developed Direct Pressure-Type Leak Tester |
| 1991 | Developed computerized leak tester |
| 1991 | Developed leak tester for the water faucet fittings |
| 1996 | Developed Patented pressure difference secondary measurement-type leak tester |
| 1998 | Developed low-cost computerized leak tester |
| 1998 | Developed ice mold leak tester |
| 1999 | Opened company webpage |
| 2003 | Established Komaki office |
| 2003 | Started selling Digital Pressure Gauge NDP6000 series |
| 2007 | Started selling Hardness Tester (Standalone type)(NP-200) |
| 2008 April | Established Factory No.2 |
| 2009 | Got the patent for temperature compensating system |
| 2011 | Sign an agency contract with Kinetic Systems, Inc. in Malaysia and Singapore |
| 2012 | Sign an agency contract with MNS Automation in India |
| 2013 | Relocated the head office to the current address and consolidated the No.2 factory |
| 2014 | As the third president, Tomoya Nakamura was installed |
| 2016 | Signed an agency contract with PINES in Korea |
| 2017 | Our Aichi ken Komaki-shi Sales Office was relocated to Konan-shi |
Contact